(So…I don't have a picture of these gyros.  We took them to eat at an outdoor concert several weeks ago and I forgot to do it then because I was having too much fun and wine, then I promised myself I would take a photo of the last one I was going to eat for lunch the next day…only I was so hungry and it was so good that I completely forgot.  Again.)
I think you've probably heard me say it before- I'm pretty sure I was Greek in another life.  I am so completely drawn to their food, and every photo I have seen of their country takes my breath away.  My parents used to take my brother and I to the Greek Festival every year in downtown Charlotte and I would look forward to it every year.  Spanakopita is my absolute favorite but nothing beats a good gyro, when the juices drip down your arm and the flavors from the lamb and tzatziki are so intense and delightful that you almost need a moment to collect yourself before each bite.
I also have developed quite a crush on Chef Michael Symon.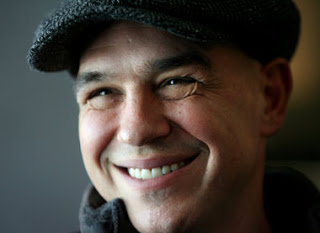 I liked him way before he began co-hosting The Chew, I liked him back when he was battling to be the Next Iron Chef.  (He's Greek, by the way.  I just realized you may have no idea what the tie between him and Greek food is.)
But, anywho… when I was planning out our meals for that particular week, for the night of the concert specifically, I remembered I had some ground lamb in the freezer.  So I immediately thought to make gyros.  And since I knew my gyros could never compare to the traditional, I wanted to change it up a bit.  These are so yummy!  The flavor of the slow roasted tomatoes really make the entire sandwich.  Slow roasting tomatoes is a great way to use out of season tomatoes, because there is nothing worse than a raw, out of season tomato.
Here's how you throw it all together…
For the Lamb…
(makes enough for 4 large gyros, and you can certainly make this lamb loaf in advance if you need to and then just reheat it before assembling)
In a small mixing bowl, combine the following:
-1 lb. ground lamb
-4 cloves of garlic, grated with a microplane
-1 1/2 tsp kosher salt
-1/4 tsp cinnamon
-1/4 tsp allspice
-1/4 tsp black pepper
-1/2 tsp dried oregano
-1/2 tsp dried rosemary
-1/2 tsp dried onion powder or granulated onion (you can also grate a bit of raw onion into the mix)
Mix lightly with your hands and place in a greased small, mini loaf pan.
Bake at 375 degrees for 30-45 min.
You will know it's done when the loaf has pulled away from the sides of the pan completely and is literally swimming in its own grease (or an internal thermometer shows a temp of 165 degrees).
Remove the lamb loaf from the pan and place on a rack situated over a plate to drain some more, blot if necessary.
Cool a bit and then slice thinly.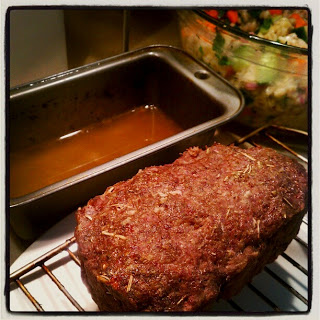 Look at all that grease!
For the Tomatoes…
(can be done far in advance and stored in the fridge in an airtight container for 4 days)
Line a cookie sheet with aluminum foil or parchment paper and cover with a good amount of extra virgin olive oil.
Slice some roma tomatoes about 1/2 inch thick and place on the cookie sheet (the amount of tomatoes depends on how many gyros you're making.  I like to make extra of these tomatoes whenever possible because they are so good.  They're great in pasta dishes, cold or warm.  But, for these gyros, I would plan on about 3 tomatoes per person to be safe, because they shrivel a lot after cooking.)
Drizzle the tomatoes with more oil if necessary (they should all be coated well, with extra oil surrounding them.
Season well with kosher salt, dried rosemary and light brown sugar.
Place in a preheated 275 degree oven and cook all day, checking every hour or so and rotating the pan to ensure even cooking time.  They can take anywhere from 6-9 hours, depending on how thick you sliced them.  Some will become crispy and some will be chewy.  Both kinds are awesome.
For the Tzatziki…
(enough for 4 gyros)
In a small bowl combine the following:
–1/3 cup plain greek yogurt (I prefer the 2% fat, but use whatever you like.  You can make your own greek-style yogurt by straining your plain yogurt in a cheesecloth lined strainer over a bowl in the fridge for a day or overnight.  The bowl will catch all the liquid and you will be left with thickened yogurt.  You can also use sour cream if that's all you have, but the sauce won't be as tangy.)
–1/2 a standard cucumber, seeded, grated on a box grater, and then liquid squeezed out (the other half is used in the barley salad, recipe below.)

-1 clove of garlic, grated with a microplane
-the zest and juice of half a lemon (the other half is used in the barley salad)

-kosher salt to taste
Mix well and cover, refrigerate until ready to assemble your gyros
Gyro Assembly…
They make whole wheat pita bread that you can find at the store, or you can make your own (I need to post my recipe soon…), or you can use a product that I used for these called Flat Out Original Light Flatbread, which were very good, although not traditional at all.
Take your pita or flatbread and place some lamb slices in the center of each, then top with some of the tomatoes, a couple slices of raw onion, a handful of your lettuce of choice (I prefer one with good crunch like romaine), and then top with a good amount of your tzatziki.
Roll up each one and wrap in foil if desired.  The foil will keep the sandwich warm and also make it easier to eat.
Serve with this Barley Salad if you'd like…
*Raw Vegetable Barley Salad
In a medium mixing bowl, combine the following (when the barley is still warm)…
-1 1/2 cup cooked barley (barley, like most grains will double in size after cooked.  I like to make extra so I can use it in lunches throughout the week, and I cook mine in salted water.)
-the juice of half a lemon
-roughly 2 tsp of red wine vinegaar
-light drizzle of extra virgin olive oil
-good drizzle of agave nectar (honey can be subbed)
-1 small shallot, minced (or about 1/4 cup of minced red onion)
-kosher salt to taste
Toss this to combine and allow the warm barley to soak up the liquid.  Allow to cool a bit at room temperature before adding…
-1/2 standard cucumber, seeded and diced
-2 large carrots, peeled and diced
-handful of chopped, fresh parsley
Taste to check your seasoning, adding more salt or acid if necessary.
Toss well and serve either cold or room temperature
As I said above, we took these to an outdoor concert and it was the perfect family picnic dinner.  Everyone loved both the gyros and the barley salad.  The salad is especially nice to take to a summer picnic because there is no dairy involved, so there's no worry about spoilage.
My son eating his gyro…in a wagon.
My daughter loved her barley so much that she needed 2 sporks.