This marks the end of my relationship with California Wine Club
(insert child-like sobbing noises here).  I received the last of my
shipments last week and I almost didn't want to open the box.  That box sat on my kitchen table for several hours and it was actually my husband who opened it because he couldn't take it any longer.  The suspense!  I think I just wanted to prolong this journey a bit longer…This has been so much fun!  It was amazing to be
'back in the business again', to kinda feel like my old self again.  Obviously I wouldn't trade being a mom for all the wine in the world but sometimes I think back on who I was, what I did, the track I was on before children and I think,
'Who was that girl?!'  What happened to her?  She was kinda fun!  And Smart!
So doing something that I used to be quite good at feels pretty dern good.  And I am quite determined to Southern-Charm
my way back into this deal.  I was so honored to be asked to review
these wines and (ahem) if any other company happens to be reading this
(ahem) then bring it on baby!
OK, now down to business.  Boozey Business.
This was a super fun shipment.  Inside the box I found 2 beautiful bottles.  One, the 2010 Tangent Viognier from Santa Barbara, and the other, the 2009 Trenza Mourvedre-Syrah-Grenache (or GSM for short) from San Luis Obispo.
Both wines have a twist-off cap, which I really love.  I know a lot of people think they aren't supposed to like twist off wines.  There is absolutely nothing wrong with a wine having a twist off cap.  And I know I will come off sounding snobby by saying this, but most of the people who turn up their nose at wine enclosed with anything other than a cork are, in fact, snobs themselves.  And I just don't have any tolerance or time for snobs.  I tried to be one, once, when I lived in L.A.  And it was just so much work, my neck got too tired looking down on so many things and the upkeep was just too pricey.  Twist off caps, or simply 'twist-offs' are more consistent at sealing a wine than a cork is, lowering the chance of air to seep in.  A twist off doesn't have as high of a chance of contaminating its wine with trichloroanisol, or TCA, which makes wines taste musty and dusty, or 'corked'.  Yes, it can get banged up, and it can leak more than a cork-enclosed bottle, but my point is that twist offs aren't the devil.  And aren't just for cheap wines.  The screw cap may not be as elegant as the cork, but it does the job just as good, and often times better than its fancy cousin. AND for us busy moms who often only have one arm available for tasks, it is a Godsend.
First up for the tasting was the red.  We decided to open it on Friday night (date night) to drink after the kids had gone to bed. Mommy and Daddy desperately needed an adult beverage that night, especially after discovering that my 15 month old daughter had gotten (once again) into my lipstick collection.
She couldn't have picked any of my new lipsticks, no, that would be too easy.  She had to dig into my last, if not the very last stick on the planet of vintage Sally Hansen Bronze Berry Ice.  And it was not only all over her skin, hair and clothing, but all over the carpet as well.  I am still finding lipstick marks on the toys and furniture in the playroom.  (Anyone with tips on how to get lipstick out of, say, anything, please give me a hollar!)  But, I have to say, she looked lovely in the shade and I am very proud that she actually managed to get it on her lips…with no outside-the-lines-coloring!  That's my girl!
The Trenza GSM on the nose was very raisiny and had notes of tart raspberries and vanilla on the finish.  My husband said it reminded him a bit of vanilla coke.  To me, it seemed like it needed a bit more time in the bottle, although it was still quite nice.  This wine doesn't represent one that I usually gravitate towards, being a little too tart and juicy for my taste, but I could definitely recognize the craftsmanship.  The 2007 version of this wine earned a 94 from Wine Enthusiast so it's younger brother had some stiff competition.  The blend is 44% Mourvedre, 31% Syrah and 25% Grenache.  Mourvedre is a grape usually used in blending and gets along nicely with Grenache, as Grenache helps soften the often too abrasive and earthy Mourvedre.  Mourvedre is a thick skinned grape and has a good amount of tannins so it is mostly blended with grapes that lack those qualites…like Grenache for instance.  I actually am not a huge fan of blends where Mourvedre is the predominant grape… (Bandol Rose's being the exception.  Love me some Domaine Tempier!)  I love it when Mourvedre sings back-up, but I just don't happen to think it's talented enough as the main attraction (for my taste).  But, with all of that being said, this was a very nice wine.  We drank ours with a simple and hearty meal of Braised Brisket with Caramelized Onions, Smashed Garlic Potatoes and Roasted Broccoli.
recipe at the bottom of page
And all got along beautifully.
On another night we drank more of the GSM, just on its own and it was a wonderful sipping wine, actually better than it had been the previous night.  I think this is a great wine to serve with a big, fat, juicy burger, any other slow cooked meat dish, like my Pot Roast for instance, even pizza would be nice.  This 2009 Trenza GSM retails at around $30 and would be a perfect gift wine for someone always looking to try something new.
Next up was the white (on a different night…).  I love viognier.  It may be one of my favorite white wines, if not my favorite when done correctly.  I have a favorite Viognier, one from Cold Heaven called Le Bon Climat, that I cannot find here, but if you're ever on the west coast and come across a bottle, you must do me the favor of picking up a bottle and drinking it…or bringing it home to me.  Viogniers, if you're unfamiliar, are lovely, perfumey wines with lots of floral notes, but also tend to taste a lot of yellow stone fruit and tropical fruit.  Maybe you're a fan of Condrieu from the Rhone Valley? That would be a viognier.  Viogniers are very difficult to grow so they tend to be more expensive…unless they're done poorly.  This 2010 Tangent Viognier usually retails around $17, which is an incredible price for such a wine.  So yes, this is a nice example of my favorite white wine grape.  My favorite?  No.  Excellent?  Almost.  It had a lot of lemon peel on the nose and I could detect small amounts of oak.  There were hints of under-ripe melon and apricots, with a bit of toast on the finish.  It was lovely.  It, again, was almost too tart for me to call excellent, but lovely still.  My mom, the buttery-Chardonnay-lover, adored this viognier.  It is an excellent wine to give to someone who usually drinks chardonnay but wants to broaden their horizons, as both Chardonnays and Viogniers are full-bodied white wines with similar characteristics.  We drank ours the first night with a delicious dinner (that my husband cooked!) of Grilled Tilapia with a White Wine Shallot Reduction, Israeli Couscous and Sauteed Squash and Zucchini.
The pairing was wonderful.
On another night, after watching the kids play all day in the sprinkler, trying to beat the late afternoon heat,
a chilled glass of white wine was starting to sound pretty good.  So we drank more of the Viognier with a grilled meal of Kielbasa, Corn on the Cob, Pierogis and Cucumber Salad.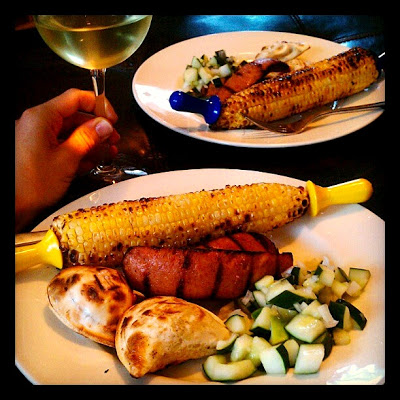 The wine was wonderful with both the corn and the sausage…not so much with the Pierogi and cucumbers, but that would have been a stretch.
We finished our glasses of viognier that night with our dessert: Peach Cobbler and Homemade Peach Ice cream (recipes soon to come). I know it isn't traditional or ideal to eat a dessert with a wine less sweet than the food, but this was one that had potential.  So I know it would pair nicely with a meal of Grilled Peaches and Poultry of any kind, or my Grilled Peach Arugula Salad with Fresh Mozzarella I posted on my last wine review, my Fresh Peach Salad with Mint, Basil and Chevre, or my Peach Caprese.  To put it simply, it would pair well with most salads and anything else poultry or seafood.
All in all, I was incredibly pleased with my last assignment and can probably call this one my favorite.  The bottles were both beautiful, inside and out, and contained more obscure varietals, which I will always appreciate more.  A big thanks to California Wine Club and more specifically to Haley Shivers of Mom Spark Media who contacted me and has been there to answer all my technical questions along the way!  (I may seem like I know what I'm doing on the wine-front, but when it comes to anything computer or spreadsheet, I am a child.)
That's it for now.  I know there will be more posts to come, whenever I find the time to do so.  Maybe and hopefully there will be more wine reviews, maybe it will be be a simple recipe to help make your busy life make more sense, a money saving tip or two, and maybe there will be a story.  But what I now know for sure is that, although my life has changed in the most drastic of ways, I will always and forever have something to say.  So thank you all for listening.
~~~~~~~~~~~~~~~~~~~~~~~~~~~~~~~~~~~~~~~~
*Brisket for Two
(This is a very simple base recipe that I encourage you all to make your own.  And when I say simple, I mean embarrassingly so. Sometimes, when I have the time, I add herbs, dried fruit, diced tomatoes, and/or whole cloves of garlic, but this is just the simplest form that you can throw together in no time at all.)
-Place a 1 1/2 lb brisket in a small dutch oven or roasting pan, fat side up.  Thinly slice 1 small-medium onion and lay over the meat.  Cover with 1 can of beef broth and a good glug of red wine.  -Cover with the lid or tin foil and place in a preheated 275 degree oven for 3 hours, then remove the lid or foil and increase the heat to 350, to continue to cook for 1-2 hours, or until the liquid has reduced drastically and the top of the meat is crispy and deep brown.
-Serve the tender meat topped with a piece of the crispy skin, the softened onions and reduced broth and preferably on top of something starchy like a mashed potato to catch the delightful dribble.


~~~~~~~~~~~~~~~~~~~~~~~~~~~~~~~~~~~~~~~~~

This is the final time I will be able to offer you this discount code for joining the Premier Club of California Wine Club: everyday12, So get to it!  Using that discount code, you 4 bottles for the price of 2 when you sign up, so it's a really great deal.  If you're a regular wine drinker, joining the Premiere Wine Club is a really fun thing to do because each month, you get something new and exciting in the mail.  You get 2 bottles of something award winning from California, one white and one red, along with information about the wines.  It's like Christmas every month!  You can also do what I do and follow @cawineclub @boringwineguy on Twitter and 'like' The California Wine Club and The Boring Wine Guy on Facebook for the latest in wine.
If you want to read my other reviews for the California Wine Club, see my Fess Parker Review and Tobin James Review)
This review was made possible by Mom Spark Media.  Thoughts are my own.