This is a new version of one of my old recipes.  I wrote it when my son was around the same age as my daughter is now.  She was around 18 months old going through potty training and I wanted a fun treat for her rewards that I actually felt good about…and also a fun activity for my then 4 year old son to do with me (I have always brought my kids in the kitchen with me, always).  My kids have had these fun treats a couple times a year ever since then, and I do not exaggerate when I say they LOVE them.  You'd think I was feeding them straight up sugar magic.
But these fruit gummies are actually fairly good for you, even though they do contain some sugar.  But if you're comparing them to the store-bought fruit snacks with a ton of sugar, no vitamins or fiber and no real fruit puree, then these would be considered a health food.
My daughter is now old enough to help me make these just like her big brother did all those years ago.  And she was only slightly excited to do so this week…
There are a few recipes out there for homemade fruit snacks, but most of them are just fruit juice and some sort of gelatin product. My recipe uses actual real fruit that you puree and stir into some unflavored and a little flavored gelatin (ahem, jello).  You heat it up and then pour it into little molds and chill until set.  So easy!  I make them in silicone ice cube trays that I have in various different fruit shapes which I got from Target awhile back. But you can find a lot of silicone shaped molds online. And for the upcoming fall season I decided to attempt pumpkin shaped gummies…in the color of pumpkin.
(You have no idea how excited I was to see that I actually succeeded in this.)
(Actually you do…just imagine the adult version of that little face up there and you're pretty damn close.)
But you use whatever fruit and flavors you want!  That's what's so great about this recipe.  There are a dozen different combinations, and I create a new flavor every time I make these.  Get creative with your shapes and fruits, depending on the season or holiday- Red berries in heart shapes for Valentines Day…bright orange in carrot molds for Easter, or coconut plus any fruit in an egg shape for a pastel Easter egg…blackberries and concord grapes in bat molds for Halloween…lime and green apple in clover shapes for St. Patrick's Day…it's so much fun! Just pair a fresh (or frozen) fruit with a flavored gelatin that compliments it.
You'll read below what I used to make these look just like tiny pumpkins for Fall.  (Eeek!!!)
These are great for lunch boxes and kid's birthday parties too.  (They're the first to go at a party, so make extra!)  But the most important thing about this recipe is that you have tiny helpers on the front end, and on the back end.  Those sweet, happy faces will have you making these every week!
And why not?  We've already established they're a health food.
…
HOMEMADE (REAL) FRUIT GUMMIES
In a glass, microwave-safe bowl (preferably a large measuring one with a pouring spout such as Pyrex brand), combine the following and stir with a fork…
1 – 1 1/2 cups real unsweetened fruit puree (un-strained and you can use either fresh or frozen fruit…I used fresh peaches here (SKIN ON for color and fiber!!) and 2 large (very ripe) peaches equaled roughly 1 1/4 cups for me, which was perfect.)
1 (3 oz) package jello (I prefer the mango flavor for the right shade of pumpkin, but they do make peach jello, and even orange jello would work if that's all you had… but I can't attest to the color result.)
3 (.25 oz) packages unflavored gelatin (such as Knox brand)
Microwave for 2 – 3 minutes, stirring every so often, until the mixture bubbles.
Pour the (very) hot fruity liquid into your silicone ice cube trays/molds.
Place the trays on a cookie sheet for easy moving and level cooling, and refrigerate for at least 3 hours, and they're generally done at that point, but 8 hours would guarantee they've completed their shaping and setting.
Pop out of the molds and store in a airtight container in the fridge for a few days!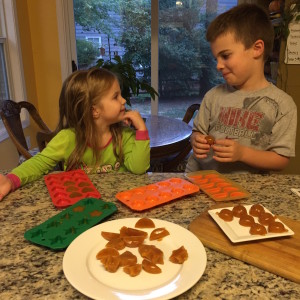 If they last that long…
XOXO