When I hear the word 'rustic' put before anything tart-ish,
I. Am. Sold.
Because, why?  Because tart means pastry, which means starch plus butter, which means Abbey is a happy girl.
And rustic means nobody broke something trying to make it look perfect, but it's still guaranteed to be delicious.
Why?
Because starch plus butter.  Duh
This was an idea that came to me when I was grocery shopping a couple days ago.  I came upon some eggplant, which got me thinking of ratatouille, and also of my Eggplant Parm (which I have posted before, but am not linking to because it's not a great link and also because I am planning on reposting soon, so… I'd rather tease you now), then I saw some good lookin' zucchini… and I already had some heirloom tomatoes at the house from a weekend picnic, so my wheel's started turnin' as I walked the market.  And I soon decided against Ratatouille and Eggplant Parm, wanting something fresher… and somehow my brain went to Vegetable Tart.
And I'm oh so glad it did.  Because this is such a lovely dish. It's so deeply flavorful… it's hearty, yet light.  It was the perfect family meal with a side of some Roasted Lemon Cod.  (Don't you just love when the side item is the protein ? 😉 )
The base of the tart is a Roasted Garlic – Balsamic Jam spread over the pastry, topped with Caramelized Onions, then some creamy, young Goat Cheese, before your Roasted Summer Veggies get piled up.  You sprinkle some Fresh Rosemary on top, and bake it til golden brown-flaky goodness happens.  Then you top it with Fresh Basil and Pecorino.
(Did I mention how lovely this is?)
So after I brain-cooked it up at the store that day, I came straight home, took out the remaining half of the gluten free pie dough I had frozen from the batch I made for my Mother's Day quiche, and let it thaw while I started roasting my veggies… And about an hour later, I had the most beautiful rustic, free-formed summer vegetable tart (call it a galette if you wanna be fancy) I had ever seen.
And the best part was that it tasted just as beautiful.
Don't you just love perfectly imperfect beauty?
ROASTED ( AND RUSTIC )
SUMMER VEGETABLE TART
Roll out your pie dough to about 8 inches on a parchment lined baking sheet (I used one I had previously roasted the eggplant on, after it cooled).  It doesn't need to be exact, but keep it in the circle family.
Chill in the fridge until you're ready to assemble your tart.
…
. caramelized onions .
In a large pan, on medium heat, add a little bit of light olive or canola oil– just a drizzle is fine.
Add to the hot, oiled pan…
2 yellow onions, thinly sliced
good pinch of kosher salt
sprinkle of sugar
sprinkle of ground allspice
Let the onions cook down until incredibly soft and spreadable, stirring occasionally. Turn down the heat if they're getting crispy.  This can take up to 20-25 minutes.
Set aside and allow to cool.
. roasted garlic – balsamic jam .
(Note- you will be roasting your garlic at the same time and temp as your vegetable trays… just plop the foil package onto an open oven rack spot while they roast.)
Slice off the tips of 2 whole heads of garlic, exposing the tops of the naked cloves.
Place onto a large sheet of heavy duty aluminum foil, drizzle with a little oil and season with kosher salt.
Wrap them up tightly in the foil (double up if you wanna be extra careful) and place in a 425 degree oven for about 25-30 minutes, or until they cloves are incredibly soft all the way through.
Allow to cool completely in the foil (also steaming and continuing to soften inside as they cool).
Unwrap foil.  Squeeze flesh of garlic out into a small bowl, being sure to get all of it out.  Mix with a fork to make a paste-like consistency.
Into the bowl with the squeezed out, roasted garlic, add the following…
about 2 TB balsamic vinegar
about 1 tsp light brown sugar
Mix with the fork until fully combined.
Taste to make sure it's the jam 😉
. vegetables .
These all take relatively the same amount of time in the oven. You just may not be able to fit all of them at once in there, so do what you can.  Also, it's highly likely you'll have leftover veggies… use them in a scramble the next morning!
On as many cookie sheets / roasting trays as you need, line with parchment paper for easy removal and cleanup, and add the following (one type of veg per tray if you want a prettier tart)…
1 medium eggplant (1 lb), sliced about 1/4 inch thick
1 small zucchini (1/2 lb), sliced about 1/4 inch thick
roughly 3/4-1 lb. fresh heirloom tomatoes, in whatever variety you choose, sliced into thin 'steaks' if they're large, and in half if they're baby
Be sure to keep all the veggies in a single layer on each tray.  Drizzle with a little more oil and season with kosher salt.
Roast at the same 425 degrees as the garlic, for about 20-25 minutes.  The eggplant likes to cook a bit faster, so I'd check on them first.
You don't need them full-on crispy, you really just want them firm and beginning to brown, but most importantly- the water cooked out of them so you don't have a soggy tart.
As for the tomatoes, cook until they've become mushy and have given off a lot of their juices, but are still intact, shape-wise.
*Reduce oven heat to 400*
Assembly time!
You're basically just following your art dreams and making this as pretty as you want it to be.
It's…
garlic jam
onions
3 ounces soft, young goat cheese (chèvre)
veggies, shingled in a circular pattern
large sprig fresh rosemary, minced
Leaving about 1 inch of open dough around the exterior.
Then you fold over the edges of the dough, creating a tight wall around your art dream.
Brush the exposed pastry dough with a beaten egg yolk.
Then you bake at 425 degrees for 30-40 minutes, or until the crust is golden brown.
And beautiful.
Drizzle the vegetables with extra virgin olive oil.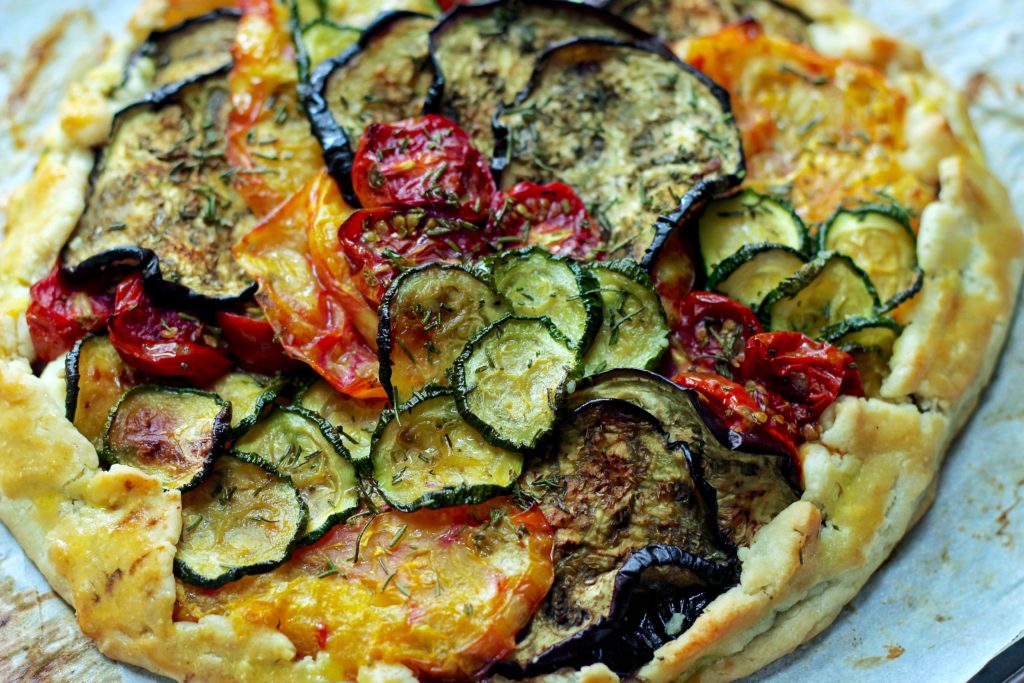 Top with some basil leaves and shaved pecorino cheese.
Serve warm or room temperature, on it's own or paired with a simple side salad or roasted/grilled fish either for lunch or dinner… and with a crisp Cali Sauv Blanc 😉
This is so delicious, y'all.  My entire family loved it and I'm so happy to share it with you!
Thanks for reading and enjoy your evening! XOXO