I made these yesterday to take to my son's preschool for his birthday.  I didn't want to do the usual cupcake like I've done before, and instead decided on making rice crispy treats because I have about a zillion boxes of the cereal due to recent coupon/sale match-ups.  (I buy the brown rice cereal because it's healthier, and sometimes even the natural marshmallows, but obviously the run of the mill/old school stuff is perfectly fine!!)  After I decided to make rice crispy treats, I started to feel a little guilty for doing something so boring.  (This is an ongoing struggling for me…I can't seem to do things on a simple level and it's a real problem).  So I thought this was a cool way to make them special.
I figured since rice crispy treats are such an easy, malleable product to use for food projects (they're used to make 'bricks' in ginger bread houses, etc.) that I could mold them into whatever shape I wanted to…so out came the funnel and in came the Rice Crispy Kiss!  Aren't they adorable?!  You can make these however big your funnel may be (I have 3 different sizes and decided to use my smallest size because I was making so many but if you have the standard large kitchen funnel, then it would be perfect for a single gift for somebody special.)
They couldn't be easier to make…I mean, how easy are rice crispy treats?!  And the packaging is only slightly tedious…but totally worth it in the end.
Enjoy!
*Rice Crispy Kisses
(one 'batch' of rice crispy treats makes about 18 small (1/3 cup size) kisses
My message said 'Happy Birthday, Henry!'
-Make rice crispy treats as directed on the package
-Grease your funnel and with your greased spatula, pack some of the warm rice crispy treat mixture into the funnel.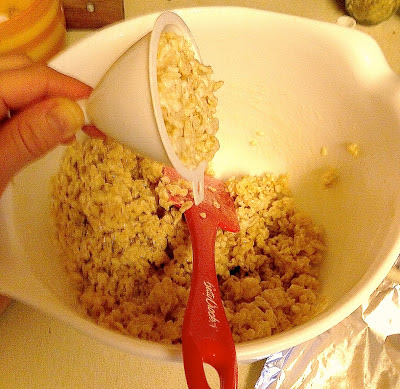 -Press down firmly and invert onto a small piece of foil*, just big enough to be wrapped around the treat without excess at the top.
-Allow these to cool before wrapping to prevent unnecessary stickage.
-Write your message (if desired) onto a thin piece of paper, a bit longer than the height of the treat and place inside, up against the treat.
-Wrap tightly and twist at the top.  Trim off any excess foil to prevent it looking like a beggars purse instead of a kiss.
-Give to someone in need of some smooches!
(*I use heavy duty foil for my everyday use but for these, the cheapest, thinnest foil is the best.  I actually bought the foil for these at the dollar store and it was paper thin.)