This is an easy soup to make, as long as you don't mind peeling potatoes. A lot of potatoes. (But be careful while you're peeling…I'm not used to having long nails due to pregnancy hormones and I sliced off my pointer nail while in the peeling zone. I almost served my family nail and potato soup.) Normally I don't advocate peeling your potatoes, apples, etc. for most dishes, but when it comes to soups like this, it is necessary.
This is also an easy soup to make because it can be made ahead of time, which saves you a lot of time later in the week. I actually made this earlier this morning while my son was eating his breakfast and it's in the fridge until we need it tonight for dinner. Most of the things I make can be made ahead or contain components than can be made ahead. That's just how I cook. If there's any part of a dish that I can do while I have some time in the day, I do it. Then, when my husband comes home from work, I'm not stuck in the kitchen.
I'm gonna take a second to talk about make-ahead meals, if you don't mind. I have a good friend and neighbor who struggles with having good, home-cooked meals for her family after a full day of work. There are plenty of tricks and tips you can use to make this possible. I always recommend following these TIPS for shopping and meal-panning first, and then if you work out of the home full-time, cook and prep as much as you can on one of your days off, say a Sunday afternoon. And by all means, get your kids involved! For example, if you plan on having pasta later on in the week, make your sauce on Sunday and store it in the fridge. Then all you have to do is boil your pasta on the night you plan on eating it. Most, if not all, casseroles can be made days in advance. You can also roast a pork loin, turkey breast, a couple of chickens, a beef roast, etc on Sunday and then eat the roast/whole chicken, etc. that night for dinner but use the remaining for another day's casserole, stew or hash you can also make that day. I have other ideas, but won't bore you with them now. If you have any questions about this, please leave a comment with your question and I'll be happy to help you.
OK, on with the soup. There are plenty of potato soup recipes out there, I'm sure, but since I'm not a recipe gal, I don't know how this one compares to those. I use both sweet and white potatoes in my soup, which bumps up the vitamins and flavor tremendously. I serve mine with extra large crostini topped with a cremini duxelle and melted gruyere cheese. It's a fairly healthy meal and is a great option for vegetarians. Here's how you make it…
*2 Potato Soup with Cremini and Gruyere Toasts
(soup recipe makes 8-10 servings)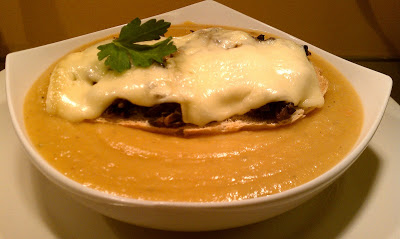 In a large soup pot, on medium heat with some olive oil, sweat out…
-1 small onion, diced
–2 carrots, peeled and diced
–2 stalks of celery, diced
–5 lb total of white and sweet potatoes, peeled and chopped
Season liberally with salt and pepper.
Stir well and often. When the veggies have begun to stick a bit to the bottom of the pot, add…
–1/2 a glass or so of white wine**
Stir well from the bottom and after about a minute, add…
–2 32oz cartons of stock or broth (I always use chicken, but vegetable is fine)
–1 chicken bouillon cube (again, a veggie cube is fine)
–1 onion bouillon cube (these are harder to fine, but add a lot of great flavor. If you don't have onion, use another chicken or veggie)
–a small handful each of fresh thyme sprigs and fresh sage leaves, 1 rosemary sprig and 2 bay leaves, wrapped in cheesecloth and tied with kitchen twine to make a bouquet garni
-If your liquid level doesn't cover your veggies, add enough water to cover.
Turn the heat up to high and bring to a boil. Then cover, reduce heat to low and simmer for 20 minutes, or until your veggies are fork tender.
Remove the bouquet garni and with your immersion blender, puree everything until completely smooth. (No immersion blender? Puree in a blender in small batches before transferring back into the hot pot.)
Add more stock, if necessary, to thin it out a bit if it's too thick. Check your seasoning and when the right consistency is reached, add…
–lots of freshly grated nutmeg and 1 rounded TB of sugar.
–a little cream or heavy milk and 2 TB of butter to richen it up a bit.
To make the Cremini and Gruyere Toasts…
-Slice a round loaf of crusty French or Italian bread into thick slices.
-Place under the broiler until toasted on both sides and then rub one side with a raw clove of garlic.
-Slather with a good amount of Cremini Duxelle (*recipe below) and top with a slice (or two:) of gruyere cheese.
-Place back under the broiler to melt the cheese and serve on top of your soup. (My husband prefers his on the side of his soup, but I like the fact that the toast becomes part French-Onion-Soup-like-crouton, part dipping sandwich)
*Cremini Duxelle
(can also be made well in advance)
-In a skillet on medium heat with olive oil, add several big handfuls of cleaned and minced cremini mushrooms. Toss to coat in the olive oil.
-After several minutes, add 1/2 a small onion, minced, and 2 cloves of minced garlic. Toss and continue to saute for a couple of minutes until you can smell the garlic, the onions have become translucent and the mushrooms have browned.
-Season with salt, pepper, and about a TB of fresh thyme leaves.
-Deglaze the pan with a splash of white wine** and when the liquid has evaporated, your duxelle is done. Remove from the heat to cool.
-Leftovers of this will last for a week or so. You can use it to stuff any type of meat, or in puff pastry rounds for a quick appetizer.
(**Tips on cooking with white wine-DO NOT buy the stuff at the store labeled, 'cooking wine'. It's full of salt and/or sugar and the taste is horrible. When you're cooking with wine, the flavor concentrates and most of the alcohol evaporates so you want one that tastes good out of the bottle, because once its flavor concentrates, the flavor strengthens. But DO NOT spend a lot of money on a bottle you are only using to cook with.
An old school rule of thumb is to cook with the wine you plan on drinking with the meal. But I've got an even better rule for those of you who either may not drink a lot of wine, or just don't want to 'waste' your good drinking wine on your food- I may get panned by many cheffy chefs out there reading this but there are plenty of wines around the $5 range that are perfectly fine to cook with, trust me. I've worked in the wine business and I've worked in plenty of fabulous restaurants, some owned by award winning, celebrity chefs who have always used a 'cheaper than house' wine for their cooking. If you don't want to use wine at all in your cooking, substitute a spoonful of dijon when the recipe calls for white wine.
Now, about the type of wine…Since we're talking about white here, a dry varietal is always best-Pinot Gris/Grigio, a dryer style of California Sauvignon Blanc, Albarino, White Burgundy, you can always use vermouth if you have that on hand, and a domestic Chardonnay works in a pinch, as long as it's not an overly oaked, buttery California-style Chardonnay.)
This entire meal with leftovers, (4 servings of the toasts and 8-10 servings of the soup) cost me less than $4, because I followed these TIPS)