Is it rude if I don't talk to you and only tell you about tomorrow?  Promise we're still friends.
Watch me tomorrow morning on NBC: WCNC-TV talking Memorial Day wines!  The show is 9-9:30 and I should be on towards the top.  I just recently moved and my closet is scattered around my bedroom so here's hoping I'll be clothed and otherwise appropriately present.
Here we go.
I'm bringing 3 wines you can have some fun with on this long weekend (and beyond 😉 ) and a couple of bar accessories.  No excuses for not being prepared to party this weekend, yeah?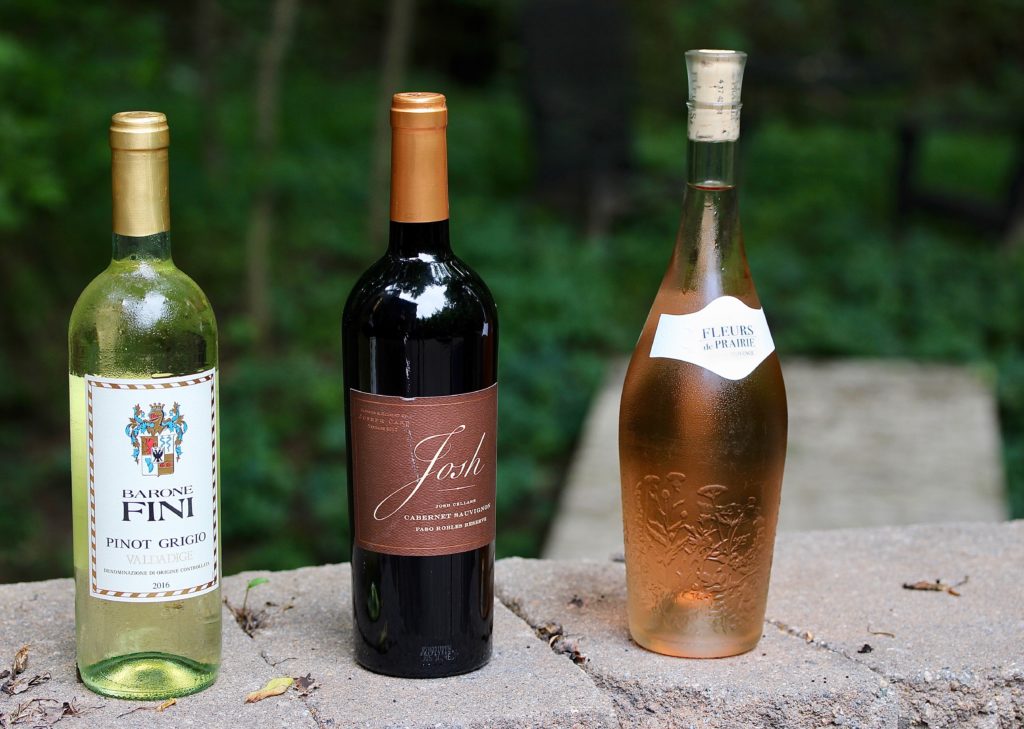 First up is a very familiar Pinot Grigio…
The 2016 Barone Fini Pinot Grigio is one I've featured countless times.  And I probably won't stop any time soon because ya'll love it to much!  It's the most popular of the wines I've shown, and for good reason – it's cheap and good.
What more do you want?
It beat out the Santa Margherita PG 3 out of 4 in a taste test… and the Santa Margherita is three times the price!
What more do you want?
It retails for $12.
Click the following to purchase the Barone Fini on wine.com:
Barone Fini 2016 Valdadige Pinot Grigio – Pinot Gris/Grigio White Wine
Next up is the 2017 Fleurs de Prairie Rosé…
Who doesn't love sipping on a light and crisp rosé this time of year?!?
Nobody.
This one is from Cotes de Provence and it's very delicate with notes of lavender and rose petals… hints of strawberry and bubble gum 😉
It's an easy sipper, perfect for day or evening.  Pair it with light salads… it would love anything with tarragon or fennel, also goat cheese… most seafood dishes would love it too, especially shellfish.
It retails for $19.
Click the following to purchase the Fleurs de Prairie Rosé from wine.com:
Fleurs de Prairie 2017 Rose – Ros Ros Wine
The final wine is a red.  And I know a lot of you are scratching your heads on why I'm showing a red wine for a Memorial Day segment, but here's the thing… you're barbecuing this weekend, yeah?  Probably cooking out… burgers, steaks, ribs…?  Highly likely.  And the best wine for those foods is a big ole fruity red.
Enter in the 2015 Josh Cellars Paso Robles Reserve Cabernet.
This one is so brand new, I don't even have a direct link to share from the distributer!!  But it's all that you want in a big ole fruity red… blackberries, vanilla, a little bit of blackberry leaves for a hint of bitterness.  It's a perfect pairing for your grilled dinners this weekend 😉
Retail price of the 2015 Josh Cellars Paso Robles Reserve Cabernet is $20.
Click the following to purchase it from wine.com:
Josh Cellars 2015 Paso Robles Cabernet Sauvignon – Red Wine
Now onto the accessories…
So I have several ice buckets, and they sit on my bar, or I pull them out for parties and honestly, I have a weird relationship with them all.  They all sweat everywhere and I have to keep replacing the towel underneath it while I'm entertaining, and it just kinda bugs me.  I love the concept of them… just don't love that they're so sweaty.  Or that they barely keep the ice in ice form for longer than half an hour or so.
Enter the Rabbit Twist to Lock Ice Bucket.
It's double walled in stainless steel so it prevents condensation (a.k.a the bucket sweats)
(ha. 'sweating buckets'. there's something more there but I'm too tired to do it.)
I tested it out and filled it with ice and let it sit overnight.  The next morning there were still ice cubes inside (with some ice cold water) and not a single drop of sweat!
It also has a lid that you can twist to lock and carry around.  So when you wanna have your cocktail station outside?  No prob.  Grab that sucker by the handle and get on with it.
It may not be the most fashionable ice bucket, but take it from someone who's only invested in the pretty ones… they don't work.  This one works and it'll last you forever.
Retail price of the Rabbit Twist to Lock Ice Bucket is $50.
The last accessory I have is the MAKO Lever Corkscrew.
So coming from someone who prefers to open her wine like she did when she bartended (a.k.a in 4 seconds whilst juggling 45 orders), this was a nice tool to revisit.  I hadn't used one of these in awhile and I kinda forgot how much fun they were!
You just set the bottle on a sturdy surface, use the foil cutter provided to slice off the top of the foil (or don't… I usually don't.. it still comes off with the cork), place the lever corkscrew over the top of the cork, push the lever down over the bottle, thus inserting the corkscrew quickly down into the cork, and then pull the lever right back out again!  The cork comes right out.  No twisting, nothing.  It's pretty quick and easy and a fun thing to have at parties.  Just be mindful of your guests opening up more bottles than they want just for the sheer fun of it!
But don't worry… it comes with an extra corkscrew if it gets overused 😉
Retail price of the MAKO Lever Corkscrew is $30.
That's it!  I'll have all of that tomorrow on WCNC-TV.  Tune in around 9 – 9:10 am and watch me sip wine while you sip your coffee.
Then this is me the rest of the weekend.
New house, new backyard in the woods…
Bikinis, bare feet and bliss.
Rosé all day.
Happy Memorial Day, ya'll.  See you from your screen. x